Main information:
Augustinian Monastery (Old Palace)
Museum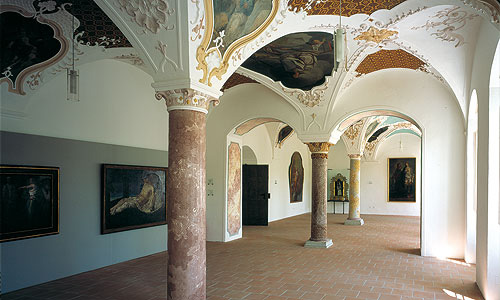 In 1998 a modern museum was opened in the Convent Tract and Princes' Tract of the Augustinian Monastery. A visit there is an encounter with 1200 years of Bavarian history:
The Museum "The Birth of a Constitution" commemorates the historic conference held in these rooms in 1948 to prepare the constitution of the Federal Republic of Germany, one of the most important and promising chapters in the history of modern democracy.

This part of the museum was conceived by the Haus der Bayerischen Geschichte (House of Bavarian History).

Further rooms in the Museum "From the monastery to the king's palace" record the rich history of the oldest monastery in Bavaria, and the cathedral chapter.

The former apartment of Ludwig II is exactly as it was during his lifetime.

The Imperial Hall and Garden Room in the Princes' Tract (south tract) are open to the public. With all their original frescos and furnishings, they are among the most outstanding residential interiors from the Baroque period in Germany.
---
"Breakfast Table", painting by W. Püttner
The Maler am Chiemsee Gallery with a selection of over 50 masterpieces of painters like Karl Raupp, Joseph Wopfner, Leo Putz and Wilhelm Trübner, who all worked on the Chiemsee, is also accommodated in the museum in the Augustinian Monastery.