Main information:
Information for visitors

Opening hours
The sights on the island of Herrenchiemsee are open daily.
Public holidays: all buildings are closed on 1 January, Shrove Tuesday and 24/25/31 December.
The opening hours are dependent on the regular boats to the Herreninsel and can deviate from the following information.
New Palace (guided tours only)
25 March-15 October: 9 am-6 pm (last tour: c. 5 pm)
16-28 October: 9 am-6 pm (last tour: 4.50 pm)
29 October-24 March: 9.40 am-4.15 pm (last tour: c. 3.50 pm; depending on the shipping)
The waterworks run from the beginning of May to 3rd October.
PREVIEW
Königsklasse IV

– Artworks from the

Pinakothek der Moderne

Special exhibition at Herrenchiemsee New Palace · 18 May 2018 to 3 October 2019

The exhibition will be closed in winter (4 October 2018 to mid-May 2019)

Organizer: Pinakothek der Moderne München
King Ludwig II Museum in the New Palace
Due to building work the King Ludwig II Museum is closed to the public at the moment. The work is scheduled for completion by the end of April 2018.
We apologize for any inconvenience caused.

Museum in the Augustinian Monastery and Maler am Chiemsee Gallery
25 March-28 October: 9 am-6 pm · 29 October-24 March: 10 am-4.45 pm
last entrance 30 minutes before closing time
Julius Exter Art Gallery (north wing of the Augustinian Monastery)
25 March-28 October: 9 am-6 pm · 29 October-March: closed
last entrance 30 minutes before closing time
---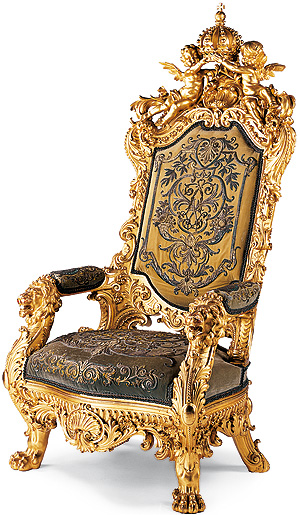 Guided tours on the New Palace
Tours in German take place continually in groups up to 55 persons. There are also regular tours in English: in summer twice per hour, in winter once per hour. The tours last about 30 minutes.
Tours in several other languages are – depending on the personnel capacity – normally feasible, when there are at least 15 participants. For groups of at least 15 paying guests it is possible on a limited scale to reserve guided tours in other languages (contact).
We also offer special tours for children (from 6 years; only in German), in summer at 11.05 am, 1.05 pm and 3.05 pm, in winter only at 3.05 pm. Please note that children under 12 years must be accompanied by an adult.
Please feel free to contact us if you would like to book an exclusive tour for a private group (reservation).
| top |