Main information:
Things to know about your visit
Current information
Reservations are only made for groups of 15 or more. Individual travellers can get tickets at the ticket offices at the jetty on the island; we offer some tickets online via our ticket shop. So even if there are no more tickets available online, you can usually still buy tickets at the cash desk.
---
In the Augustinian Monastery only the Library Hall and the Julius Exter Gallery are open to the public until further notice due to conversion work. The entrance fee for the Augustinian Monastery has been lowered to 2.50 euros (reduced rate 2 euros).
---
Due to construction work in the New Palace, the Dining Room and the Porcelain Cabinet can only be visited to a limited extent.
Information for people with a handicap
Here you will find some information to prepare your visit to Herrenchiemsee if your mobility is restricted or if you are visually or hearing impaired.
---
Carriage rides on the Herreninsel (only in summer)
You will find the carriage station about 150 m from the Visitor Information Centre in the direction of the New Palace. The carriages normally run from mid-April until the end of October (depending on the seasonal weather) between the boat pier and Herrenchiemsee New Palace (shuttle service). Unfortunately, wheelchairs cannot be transported in the carriages.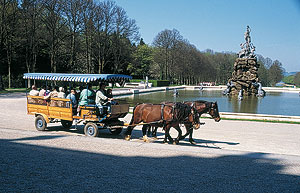 The trip takes around 15 minutes (one way). Please note that there is only a limited number of carriages.
If you have any questions concerning the carriage rides please contact us.
The price for a one-way trip is 3.50 euros for adults and 1.00 euro for children and young people (5 to 14 years).
---
General information for visitors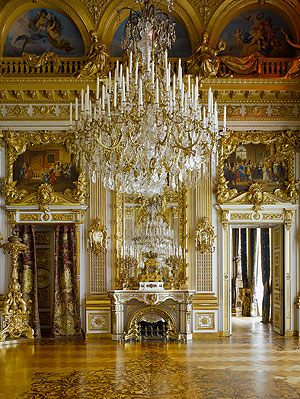 Photography and filming
Photography and filming are unfortunately not allowed in any of the buildings. Pictures of the outside of the palaces may be taken for private use only.
Photo and film shootings taken for further use as well as the flying of drones / multicopters are basically subject to approval and charges. Here you will find information on photography permits / film permits.
Wi-Fi
Free Wi-Fi is available at several hotspots on the island.
Bulky items
Bulky items like umbrellas, rucksacks or large prams may not be taken into the museum rooms. There is a limited number of lockers available, but no liability can be accepted for items deposited there.
Dogs
Dogs and other pets are not allowed in any of the buildings. We cannot offer supervision for animals brought along. Please keep dogs on an lead on the island.
Bicycles, scooters etc
Bicycles, scooters and roller blades are not allowed on the island for safety reasons. If you bring your bicycle with you to the island, please do not take it with you to the royal palace, but leave it behind the cash desks at the landing stage.
---
Download of information
Our leaflets about the sights on Herrenchiemsee Island can be downloaded as PDF files in several languages.