Main information:
Augustinian Monastery (Old Palace)
The present monastery building on Herrenchiemsee was constructed in the baroque era. The four wings enclose a large, almost rectangular courtyard with an idyllic rose garden.

The convent tract (east wing) with halls and monks' cells was built in 1645-49, the brewery tract (west wing) in 1661-65. In the princes' tract (south wing), which dates from 1700-16, were the monastery kitchen, state halls and accommodation for noble guests. The courtyard was closed off with the prelacy tract (north wing), built in 1727-30.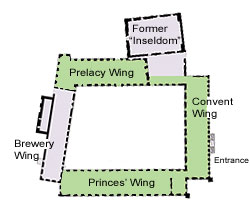 In 1998 a modern museum was opened in the convent tract and princes' tract.
The prelacy tract (north wing) houses the Julius Exter Art Gallery with around 100 works of the artist.
The "Platanensaal" (Hall of Planes) with its view of the Fraueninsel was planted in 1893.