Main information:
Herrenchiemsee New Palace
Palace tour
The tour of the palace starts in the Vestibule and goes via the State Staircase on to the first floor (see plan). From there it leads via the northern staircase back to the ground floor where it ends with a visit in the bathroom and the robing chamber.
Rooms on the first floor
Please click on a number in the plan or on a room in the legend for a view of the interior.

Plan of Herrenchiemsee Palace (first floor)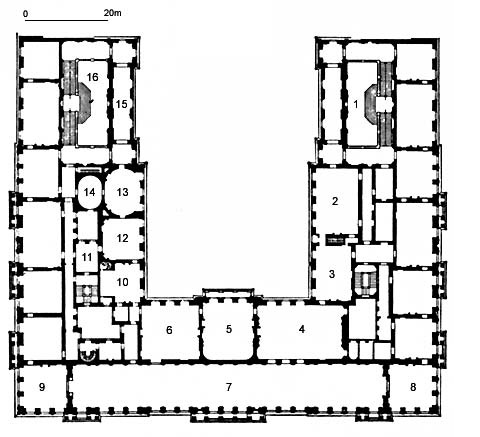 1 State Staircase
2 Royal Bodyguard Room
3 First Antechamber
4 Second Antechamber
5 State Bedchamber
6 Council Chamber
7 Great Hall of Mirrors
8 Hall of Peace
9 Hall of War
10 Bedroom
11 Blue Salon
12 Writing Room
13 Dining Room
14 Porcelain Room
15 Small Gallery
16 Northern Staircase
Rooms on the ground floor
From the Northern Staircase the tour leads via a passage where the mechanism for the magic table in the dining room is installed on to the last two rooms, the Bathroom and the Robing Chamber.