Main information:
Augustinian Monastery (Old Palace)
Sacred buildings on Herrenchiemsee Island

Wall painting in the prelacy tract showing a view of the baroque monastery on Herrenchiemsee Island, ca. 1770
Cathedral Chapter Church
From 1979 to 1989 archaeological excavations were carried out on Herrenchiemsee Island, which prove that the first monastery on the site of the present building was founded in the early 7th century (before 629). Fragments of the choir screen1 indicate that the Carolingian monastery church had an interior of great artistic quality.
St. Salvator, the abbey dedicated to the Divine Saviour, was replaced in the High Middle Ages by an Augustinian Monastery with a church dedicated to St Sixtus and St Sebastian which was consecrated in 1135. From 1215 the church also served as the cathedral of the Chiemsee bishops. The Romanesque church with its two towers was rebuilt in the Late Middle Ages.
The Cathedral Chapter Church was largely rebuilt from 1676 to 1678 by Lorenzo Sciasca (Sciascia). The stucco-work is by Francesco Brenno and Giulio Zuccalli, the ceiling paintings by Joseph Eder and Jacob Carnutsch.
Upper floor of the Cathedral Chapter Church after renovation
Only the nave has remained. The choir and towers were pulled down 1819/1820 and a brewery was installed in the nave. Designed to function as a monastery church and cathedral, it was a significant early baroque building in the tradition of the Grisons baroque masters.
---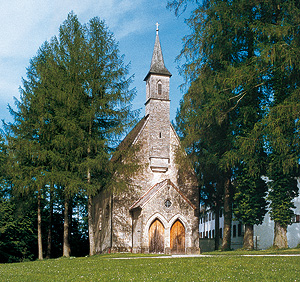 Former Parish Church of St Maria
This church was built for the lay people of the monastery parish. The late Gothic building was consecrated in 1469, and was rebuilt and refurnished from 1630 to 1632. The early baroque high altar (1632) and the coffered ceiling with panel paintings of scenes from the life of Mary date from this time.
The church also has a valuable baroque organ dating from 1668. On the façade of the building are the coats-of-arms of the Augustinian provosts.
---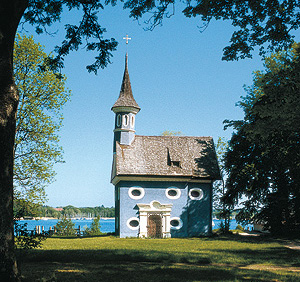 Lakeside Chapel of the Holy Cross
(not accessible)
The chapel was built in 1697 on the north shore of the island. It was probably designed by Giulio Zuccalli, and the cycle of paintings is by Joseph Eder (1700). The late Gothic crucifix (copy) on the outer altar wall is from the Cathedral Chapter Church.
1Choir screen: The function of this rather elaborately and colourfully decorated construction in wood or stone was to divide the main body of the church where the congregation was from the presbytery which was reserved for the priests.