Main information:
Augustinian Monastery (Old Palace)
Maler am Chiemsee

Gallery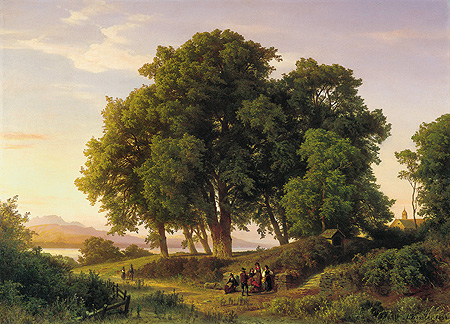 "Evening at Chiemsee", on Fraueninsel, F. A. Kessler, 1858
The "Maler am Chiemsee Gallery" is part of the Museum in the Augustinian Monastery on Herrenchiemsee. It is a permanent exhibition of the Bavarian Palace Administration and the Bavarian State Collection of Paintings Munich.
In the six rooms is a selection of masterpieces by artists working in the area around the Chiemsee: Karl Millner, Friedrich August Kessler, Friedrich Wilhelm Pfeiffer, Karl Raupp, Joseph Wopfner, Wilhelm Trübner, Julius Exter, Leo Putz, Walther Püttner, Paul Roloff and Erich Glette.
A detailed documentation of the exhibition shows the development of painting in the Chiemsee area from 1790 up to the Second World War. The following pictures shall give you an insight into the art gallery: